This year, I am so happy to announce that so many new organizations, establishments and individuals are helping Task Force Pride (TFP), the official Lesbian Gay Bisexual and Transgender (LGBT) network that has been organizing the annual LGBT Pride March in Manila since 1999, stage the 2008 Manila Pride March: Parade, Program, Pageant and Party, envisioned to be the biggest LGBT event of the year.
Just this weekend, three events are lined up that will benefit TFP. On Saturday, the Gay and Lesbian Activist Network for Gender Equality (GALANG) will hold the second screening of GALANG@Cinekatipunan at Mag.Net Katipunan.
This is a solidarity event so GALANG is holding the screenings of notable local and foreign LGBT movies on all Saturdays of November for free. I went to their first screening to plug the Pride March last Saturday when they showed D.E.B.S., a comical Charlie's Angel's like-movie with high school characters. It was a fun and intimate affair. Everyone was laughing at the ridiculous twists of the movie and the campiness of its characters. If you want to see what other movies are in store for the rest of the month, just go to the
GALANG website
.
This Saturday night, Club Government is holding a fundraiser for TFP. Dubbed,
MAN HUNT
, the male, bikini-open like event promises a feast of male beauty. I'm hoping TFP supporters will troop to Club Government this Saturday for this smoking hot event.
On Sunday, LGBT bloggers will meet in solidarity and song as AJ Matela, author of the blog,
Bakla Ako, May Reklamo?
organizes the first LGBT Bloggers' Night at a karaoke place, Red Box at Greenbelt 3 starting 7 pm. The event is meant to organize an LGBT bloggers' contingent to the Pride March on 6 December in Malate, Manila. Go to AJ's blog to pre-register. Also on that night,
Rainbow Bloggers Philippines,
a blog roll/network of LGBT bloggers will be launched.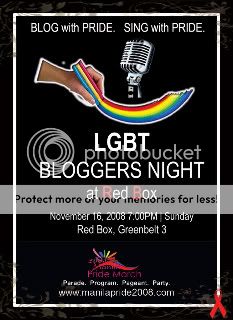 I am happily looking forward to this weekend. I know it's going to be a fun one and am hoping to see old and new faces at these events. For more information, by the way, please visit the web site of the
2008 Manila Pride March
.