Over the weekend from November 5-7, I was with Rica Paras, our transpinay celebrity from
STRAP
, because she was invited to be one of the judges in the second offering of
Queen
, a spectacular pageant in Cebu for transpinays (see pic above). Queen this year like the last one was held at the Pacific Ballroom of the
Waterfront Hotel Cebu
, where both Rica and I were billeted thanks to the generosity of the Queen organizers.
Queen is the brainchild of the Clothes for Life Foundation, an organization mostly composed of fashion designers who are Cebu-based. Its current chair is Cary Santiago, one of Cebu's most prominent people. Cary is a world-known couturier whose clientele includes the creme de la creme of the Philippines. Rica and I chatted with him post-pageant and had our pic taken as well (see above). Cary told us of his plans for Queen to be a platform to help needy communities in Cebu. I was quite impressed with his vision for Queen to be a pageant that will showcase the best of Cebu and benefit the poorest of the poor. It sounds too good to be true but after having met Cary, I have now become a firm believer in the aspirations of Clothes for Life and Queen. If I am ever in a position to help, I would easily choose Clothes for Life foundation as my charitable institution of choice.
We owe our presence in Cebu to our fantastic member in STRAP, Rain Villagonzalo who was crowned the first Queen in 2009 (see above). Rain made sure that the paths of STRAP and Queen would meet and she was instrumental in ensuring STRAP's involvement in Queen.
Rain was stunning on pageant night once again as she made her farewell walk in a breath-taking Cary Santiago cream gown (see above). We realized while there that Queen was not only a pageant for Cebuanas. It is actually open to all transgender women of Filipino descent even those who live abroad. The real name of the pageant is just Queen and not Queen of Cebu. They just had to name their Facebook page Queen of Cebu as the name Queen was already taken. I think that having an international pageant like Queen in Cebu is a fantastic idea. It is a challenge to Manila-centrism and also a way to up the ante in pageantry in the country. Queen, I personally believe, has raised the bar very high for trans pageantry in the world. From concept to execution, Queen is truly one pageant for the books. It has the potential to change the face of beauty pageants for transwomen in the world.
I was very happy to get the chance to come back to Cebu. I was there in 2007 and met a group of Cebuano transbabaes, one of whom turned out to be the star of
The Amazing Truth About Queen Raquela
, Minerva Buzon. Minerva later became a member of STRAP and is now poised to be the coordinator of STRAP Cebu. It was also one of the reasons why Rica and I went to Cebu--to meet the potential members of STRAP Cebu and have an exploratory meeting with them. Rain gamely offered for us to meet the girls at her house on our last night there (see pic above). The ladies on the left are Rain's friends (Meg in black beside me and Paula, in a denim tube dress) while the Cebuanas who have expressed intention to be part of STRAP Cebu are those on the right: Syndy (in the red dress), Weng (in white shirt, seated), Minerva (in yellow), Judy (beside Minerva) and Etep (in a striped shirt, standing).
I am proud of Minerva of course who volunteered to organize a Cebu chapter of STRAP. We will be working with her closely in the next year to ensure that our Cebuana counterparts will have an organization as strong as the one their Manila-based sisters have. It is something to look forward to indeed.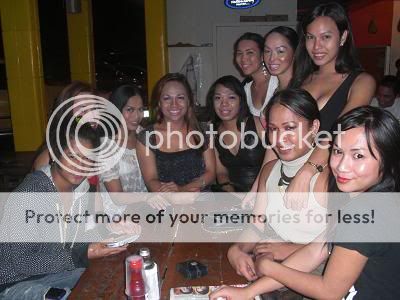 Community organizing is strong in Cebu now and I am very happy to tell all of you that a new trans organization has just been established there called
COLORS (Coalition for the Liberation of the Reassigned Sex)
. Minerva and Syndy are members of COLORS and we are all hoping that STRAP Cebu and COLORS will be able to work closely together to improve the lives of trans Cebuanas. On our first night there, Rica and I went out with the members of COLORS and had a smashing time (see pic above). From left to right in the pic above are Honey and her boyfriend, me, Rica, Eda, Minerva and Bonita (seated) while the girls at the back standing are Syndy, Brax and Magda.
The new Queen herself (in the middle in the pic above), Maki Eve Mercedes, is a member of COLORS. I wish her well and hope this new chapter in her life as reigning Queen will open doors for her and opportunities to do good for the transgender community in Cebu. Congratulations again to the new Queen Universe, Queen World and Queen International 2010! Mabuhay ang Cebuana transpinay!